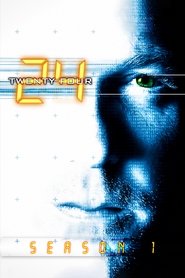 24 Season 1 Episode 3
As Kim and Janet temporarily escape their captors, Senator Palmer learns that his son may have been involved in the death of his daughter's rapist 7 years ago. Gaines finally gets Belkin's ID from Mandy, while Jack delivers the keycard to CTU.
Views: 46
Serie: 24
Guest Star: Carlos Bernard, Daniel Bess, Glenn Morshower, Jacqui Maxwell, Karina Arroyave, Kim Murphy, Liam Garrigan, Matthew Carey, Mia Kirshner, Michael Massee, Penny Johnson, Richard Burgi, Rudolf Martin, Vicellous Reon Shannon
Episode Title: 2:00 A.M.-3:00 A.M.
Air Date: 2001-11-20
Year: 2001