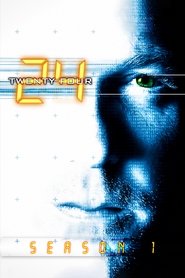 24 Season 1 Episode 4
District Director George Mason (Berkely) shuts down CTU forcing Jack to escape in order to follow up on a lead on a conspirator. Nina and Jamie try to cover for him. Palmer discovers how a reporter found out about Keith. Jack finally learns that Kim and Janet have been kidnapped.
Views: 45
Serie: 24
Director: Winrich Kolbe
Guest Star: Carlos Bernard, Daniel Bess, Glenn Morshower, Jacqui Maxwell, John Cothran, John Hawkes, Jr., Liam Garrigan, Matthew Carey, Penny Johnson, Richard Burgi, Vicellous Reon Shannon, Zach Grenier
Episode Title: 3:00 A.M.-4:00 A.M.
Air Date: 2001-11-27
Year: 2001