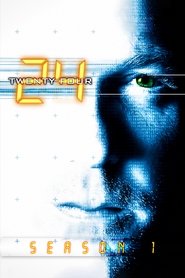 24 Season 1 Episode 6
Jack meets up with Teri at the hospital where they wait to talk to Janet about Kim. However, Janet is killed by Alan who is really working for Ira Gaines. Palmer confronts his family about the cover up. The body of the real Alan York is found near CTU by Nina Meyers.
Views: 40
Serie: 24
Director: Bryan Spicer
Guest Star: Carlos Bernard, Daniel Bess, Eric Balfour, Jacqui Maxwell, Jude Ciccolella, Kim Miyori, Liam Garrigan, Norma Maldonado, Penny Johnson, Richard Burgi, Zach Grenier
Episode Title: 5:00 A.M.-6:00 A.M.
Air Date: 2001-12-18
Year: 2001