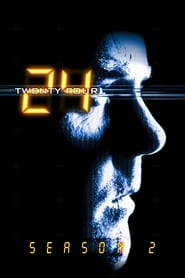 24 Season 2 Episode 1
It's been a year since Jack lost his wife, and the emotional toll includes estrangement from his daughter Kim, who is now a live-in au pair for a troubled family. Jack is no longer with CTU, and no longer interested in that line of work – until he's summoned directly by President Palmer. The situation: terrorists have planted a nuclear device somewhere in Los Angeles and plan to detonate it within 24 hours.
Views: 49
Serie: 24
Director: Jon Cassar
Guest Star: Billy Burke, Elisha Cuthbert, Jim Abele, John Terry, Laura Harris, Michelle Forbes, Phillip Rhys, Sara Gilbert, Skye McCole Bartusiak, Tamlyn Tomita, Timothy Carhart, Tracy Middendorf, Vicellous Reon Shannon, Xander Berkeley
Episode Title: Day 2: 8:00 A.M.-9:00 A.M.
Air Date: 2002-10-29
Year: 2002