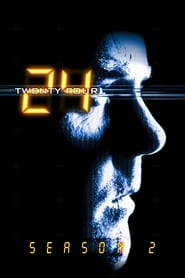 24 Season 2 Episode 2
Jack reestablishes his undercover identity to join a crew of suspected terrorists that may know something about the nuclear device planted in Los Angeles. Posing as career criminal Jack Roush, his only hope in proving his loyalty to them lies in the package he's carrying. Meanwhile, President Palmer deals with a curious press, including one particularly skeptical reporter; Kim tries to protect Megan from her father; and Kate Warner follows up on suspicions about her sister's fiance.
Views: 47
Serie: 24
Director: Jon Cassar
Guest Star: Billy Burke, Douglas O'Keeffe, Elisha Cuthbert, Jimmi Simpson, Laura Harris, Michelle Forbes, Phillip Rhys, Sara Gilbert, Skye McCole Bartusiak, Tamlyn Tomita, Timothy Carhart, Tracy Middendorf, Xander Berkeley
Episode Title: Day 2: 9:00 A.M.-10:00 A.M.
Air Date: 2002-11-05
Year: 2002