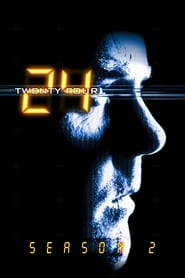 24 Season 2 Episode 3
Jack tries to undermine Eddie's mission to bomb CTU while George investigates intel leading him to the site of the nuclear bomb's construction and Kim tries to make contact with her father by heading for CTU headquarters.
Views: 76
Serie: 24
Director: James Whitmore Jr.
Guest Star: Antonio David Lyons, Billy Burke, Douglas O'Keeffe, Elisha Cuthbert, Jim Abele, Jimmi Simpson, John Terry, Laura Harris, Michelle Forbes, Phillip Rhys, Sal Landi, Sara Gilbert, Skye McCole Bartusiak, Tamlyn Tomita, Timothy Carhart, Xander Berkeley
Episode Title: Day 2: 10:00 A.M.-11:00 A.M.
Air Date: 2002-11-12
Year: 2002