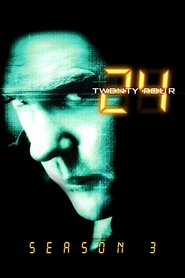 24 Season 3 Episode 10
Claudia manages to free Chase from his captors, but she pays a high price for her efforts.
Wayne turns to Julia, while Palmer calls on Sherry for help against Milliken.
Jack and Ramon make plans to get to Nina, in the hopes of intercepting the virus.
Chloe's work at CTU is disrupted when she is forced to take care of her baby.
Views: 44
Serie: 24
Director: Brad Turner
Guest Star: Eduardo Antonio Garcia, Frank Alvarez, Gina Torres, Gino Montesinos, Greg Ellis, Jamie McShane, Jesse Borrego, Joaquim de Almeida, Julian Rodriguez, Matt Bushell, Paul Schulze, Penny Johnson, Sarah Clarke, Vanessa Ferlito, Vincent Laresca, Zachary Quinto
Episode Title: Day 3: 10:00 P.M.-11:00 P.M.
Air Date: 2004-01-13
Year: 2004