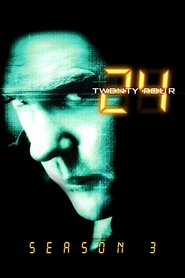 24 Season 3 Episode 14
Tony interrogates Nina about Alvers' location, while Chappelle orders Jack to undergo a medical examination in light of his drug use.
Kim and Chase have a conversation about the baby.
Palmer confronts Sherry about Alan Milliken's death, while Julia begs Wayne for help.
Views: 29
Serie: 24
Director: Bryan Spicer
Guest Star: Albert Hall, Butch Klein, David Herman, Gina Torres, Glenn Morshower, Greg Ellis, Jenette Goldstein, Lothaire Bluteau, Michael Cavanaugh, Paul Schulze, Penny Johnson, Randle Mell, Sarah Clarke, Zachary Quinto
Episode Title: Day 3: 2:00 A.M.-3:00 A.M.
Air Date: 2004-02-17
Year: 2004