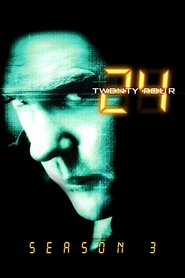 24 Season 3 Episode 17
Saunders begins making demands on the President. He forces Palmer to hold a strange press conference and then orders the death of the CTU agent who can trace him.
Jack learns of a woman who can lead him to Saunders, but a surprise attack shifts the balance of power.
As Gael's symptoms get worse, Michelle devises a way to relieve the suffering of the victims at the hotel.
Views: 50
Serie: 24
Director: Ian Toynton
Guest Star: Andrea Thompson, Doug Savant, Forbes Riley, Gabrielle Fitzpatrick, Glenn Morshower, Jesse Borrego, Joe D'Angerio, Lothaire Bluteau, Michael Cavanaugh, Paul Blackthorne, Paul Schulze, Simon Templeman
Episode Title: Day 3: 5:00 A.M.-6:00 A.M.
Air Date: 2004-04-06
Year: 2004