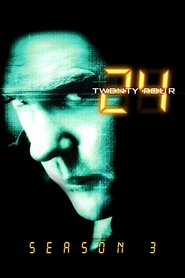 24 Season 3 Episode 2
Jack and Chase quarrel over Chase's relationship with Kim. Meanwhile, they learn of a lead to the possible whereabouts of the virus after rading a crackhouse.
Linda breaks up with Kyle when she learns that he is planning to make a drug delivery.
Wayne approaches Palmer with information about his girlfriend that could damage his chances for reelection, while a CTU employee is not what he seems.
Views: 46
Serie: 24
Guest Star: Agnes Bruckner, Carlos Gómez, Christina Chang, Geoff Pierson, Glenn Morshower, Jesse Borrego, Joaquim de Almeida, Josh Cruze, Kett Turton, Lucinda Jenney, Norm Compton, Riley Smith, Vanessa Ferlito, Vincent Laresca, Wendy Crewson, Zachary Quinto
Episode Title: Day 3: 2:00 P.M.-3:00 P.M.
Air Date: 2003-11-04
Year: 2003