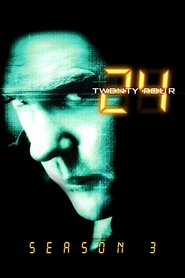 24 Season 3 Episode 3
Jack and Hector both search for Kyle, while Chase finds himself out of action at CTU.
Wayne and Palmer argue over the implications of Anne's past, while Ramon takes out one of his opponents in a surprise move.
Tony leads an operation to get Kyle, but tragedy strikes when Salazar's man gets there first.
Views: 50
Serie: 24
Director: Ian Toynton
Guest Star: Agnes Bruckner, Andrea Thompson, Carlos Gómez, Christina Chang, David Labiosa, Jesse Borrego, Joaquim de Almeida, Lucinda Jenney, Riley Smith, Ted Marcoux, Vanessa Ferlito, Vincent Laresca, Wendy Crewson, Zachary Quinto
Episode Title: Day 3: 3:00 P.M.-4:00 P.M.
Air Date: 2003-11-11
Year: 2003