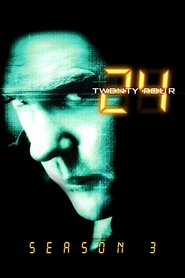 24 Season 3 Episode 4
Michelle is torn by personal and professional obligations when she must take charge of CTU after Tony is wounded.
Kyle and Linda are captured by Hector's men.
Jack and Palmer have a secret conversation, leading Jack to take drastic action in the face of the Salazars' threat. But Jack's plans are complicated when Chase gets in the way.
Anne pushes Palmer back on to moral ground in the face of her ex husband's blackmail scheme.
Views: 46
Serie: 24
Director: Ian Toynton
Guest Star: Agnes Bruckner, Andrea Thompson, David Labiosa, Jesse Borrego, Joaquim de Almeida, Kevin Chapman, Riley Smith, Vanessa Ferlito, Vincent Laresca, Wendy Crewson, Zachary Quinto
Episode Title: Day 3: 4:00 P.M.-5:00 P.M.
Air Date: 2003-11-18
Year: 2003