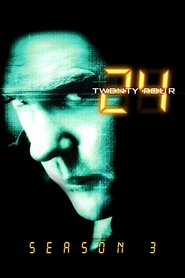 24 Season 3 Episode 9
Palmer clears Anne's name with the press, but he finds that he is facing a new problem when his biggest campaign contributer reveals a startling secret about Wayne.
Kim and Michelle worry about Tony's mental ability when he continues to make mistakes.
Jack and the Salazars meet with Amador, but the deal turns sour when Nina Myers appears on the scene and competes for the virus.
Views: 37
Serie: 24
Director: Brad Turner
Guest Star: Albert Hall, Eduardo Antonio Garcia, Gina Torres, Gino Montesinos, Greg Ellis, Jamie McShane, Jesse Borrego, Joaquim de Almeida, Josh Cruze, Julian Rodriguez, Matt Bushell, Paul Schulze, Sarah Clarke, Vanessa Ferlito, Vincent Laresca, Zachary Quinto
Episode Title: Day 3: 9:00 P.M.-10:00 P.M.
Air Date: 2004-01-06
Year: 2004