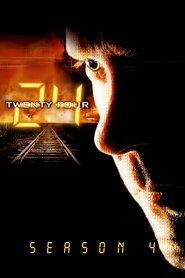 24 Season 4 Episode 21
CTU scrambles to forge an alibi when a Chinese representative produces evidence of American involvement in the raid on their embassy.
Audrey gives Jack the cold shoulder, while Palmer and Logan clash over the consequences of Palmer's decisions.
Jack and Curtis close in on Marwan as the countdown for the missile launch moves ahead.
Views: 35
Serie: 24
Director: Kevin Hooks
Guest Star: Arnold Vosloo, Assaf Cohen, Carlos Bernard, Dennis Haysbert, Gregory Itzin, Gwendoline Yeo, James Morrison, Jude Ciccolella, Keith Szarabajka, Mary Lynn Rajskub, Reiko Aylesworth, Roger Cross
Episode Title: Day 4: 3:00 A.M.-4:00 A.M.
Air Date: 2005-05-09
Year: 2005