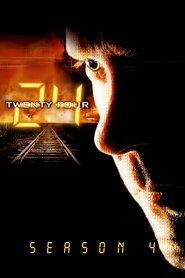 24 Season 4 Episode 8
Jack and Audrey hide out with an embittered Tony as Audrey makes a positive ID of the man from the kidnapping.
Marianne successfully diverts suspicion from herself, leading Driscoll to torture the wrong person for information.
Behrooz takes Dina to a hospital for medical attention, but the doctor becomes suspicious of her gunshot wound and phones the police.
Views: 55
Serie: 24
Director: Ken Girotti
Guest Star: Aisha Tyler, Alberta Watson, Arnold Vosloo, Carlos Bernard, Geoff Pierson, Hector Luis Bustamante, Jonathan Ahdout, Lana Parrilla, Nestor Serrano, Roger Cross, Shohreh Aghdashloo, William Devane
Episode Title: Day 4: 2:00 P.M.-3:00 P.M.
Air Date: 2005-02-07
Year: 2005